Towing Service 24 Hours A Day
Towing Service – Prestige Auto Towing is a full-service towing company bringing our knowledge and professional help to each towing situation.
Our services include 24 hours towing, flatbed towing, gas delivery, heavy-duty and truck towing, impound, jump start and battery charge, lockout help, long-distance towing, motorcycle towing, roadside assistance, tire change and repair, vehicle storage, winch and recovery service, wrecker service, junk car removal, automobile repossession, and auto salvage.
Call us today for a tow!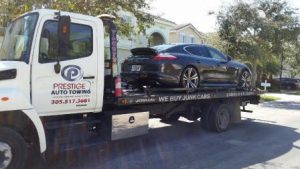 Prestige Auto Towing In Miami Dade County has the right equipment for your towing needs. Is your car or truck broken down in a parking garage? We have versatile low-profile light-duty and heavy-duty tow trucks that can navigate in tight spaces and crowded highways. These tow trucks are specially designed for low clearance underground garage parking access.
Some of our other services include 24 Hour Private Party Towing, Fleet Towing, Local Tow Trucks, Wrecker Service, Wheel Lift Tow Trucks, Flat Bed Tow Trucks, Tow Dolly equipment, Abandoned Vehicle Removal, Junk Car Removal, Emergency Roadside Assistance, Tire Change, Gas Delivery, Lock Out help, Jump Start, Car Towing, Classic Car Towing, Truck Towing, Van Towing, Boat Towing, RV Towing, Sedan Towing, SUV Towing, Motor Home Towing, Light Duty Tow Trucks, Heavy Duty Tow Trucks, Flatbed Tow Trucks, Winch tow, 24 Hour Towing, 24 Hour Roadside Assistance, 24 Hour Private Property Towing.
We offer our services to individuals, repair shops, dealers, motors clubs, insurance companies, etc. Prestige Auto Towing will go the extra mile to satisfy our clients. Our team is always ready to help you. We are available 24 hours a day, 7 days a week.
Need a good Miami towing company in Miami, Homestead, Cutler Bay, Kendall, West Kendall, Palmetto Bay, Pinecrest, Doral, Miami Beach, Hialeah, Coral gables, Hammocks, Etc? Prestige Auto Towing has tow trucks all around Dade-County waiting for your call.